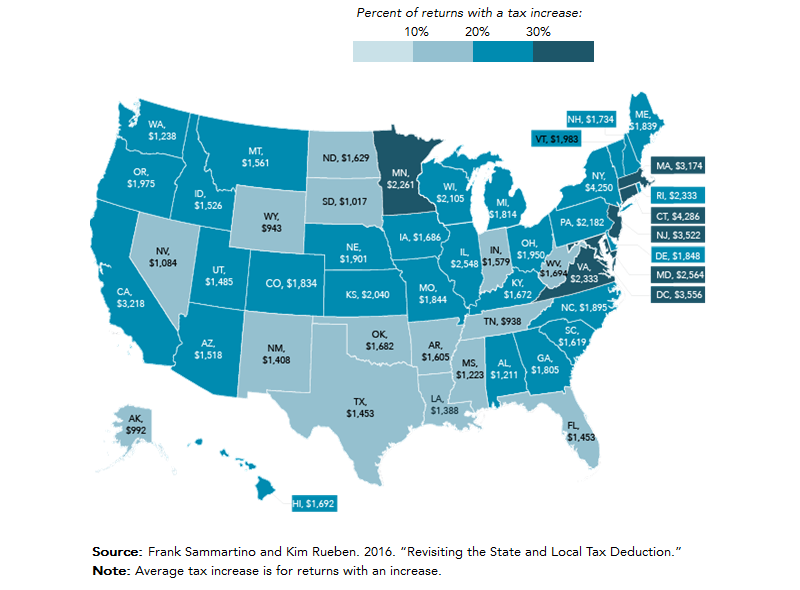 Market Predictions Moving Forward
Homebuyers Will Leave High-Tax States
If state and local tax (SALT) deductions are eliminated in high-tax states like California, New York, New Jersey, Maryland, Massachusetts and Illinois, people will leave these states for places where they can get more home for less money. In a survey of 900 homebuyers, a third of respondents said that they would consider moving to another state if they could no longer deduct state and local income and property taxes. The housing markets affected by potential tax changes account for one in four of the homes sold this year in the metros Redfin tracks. Redfin's latest Migration Report showed people looking to leave expensive coastal cities for more affordable mid-tier cities like Sacramento, Phoenix and Atlanta. Nashville was among the top 10 migration destinations for the first time. The trend has already started, and tax reform, if passed, will just intensify it.
Fewer Homeowners Will Sell Due to New Residency Requirements in Tax Reform Bills
There's a lot in flux with tax reform as the House and Senate work to reconcile their two bills into one that the president can sign into law. However, both bills include a major change in tax deductions for home sellers that is likely to make it into the final bill. Under current law, single homeowners can exclude $250,000 of sale proceeds from capital gains taxes as long as they've lived in the home for two out of the previous five years. Couples can exclude up to $500,000. However, the new proposal increases the number of years to five of the previous eight years, in order to deduct gains. This change will incentivize some homeowners to stay in their homes longer.
Mortgage Payments Will Increase at the Highest Rate in a Decade
We expect the 30-year mortgage rate to inch up to between 4.3 and 4.5 percent in 2018. In October, the Federal Reserve began reducing the size of its $4.5 trillion asset portfolio that includes $1.7 trillion in mortgage securities. Mortgage rates are expected to slowly increase as a result of this portfolio reduction. The combination of higher home prices (6%+) and higher interest rates means mortgage payments will be higher in 2018 for the same home. Monthly payments of principal and interest rose 13 percent in 2017 compared to a year ago, according to Corelogic. We expect an even higher increase-climbing as high as 15 to 20 percent-next year. [ READ MORE ]
From RedFin – December 11, 2017
by Nela Richardson
Date Posted: 2017-12-16 00:38:50