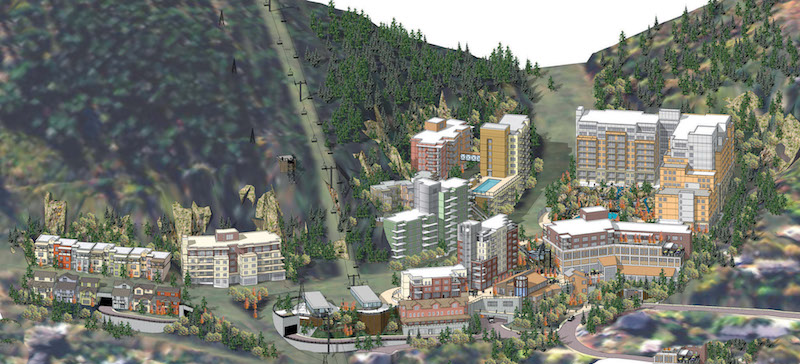 Park City Treasure Development Deal
"We need to think through this universally"
City Hall's tentative agreement to acquire half of the Treasure development rights received broad support peppered with a few concerns at a Wednesday night meeting of the Park City Planning Commission, likely an early preview of what is expected to be an intense, community-wide discussion in coming months as sides craft arguments for or against a ballot measure to fund a deal if one is pursued.
The Planning Commission meeting was held one day after Park City leaders announced they had reached the $30 million deal with the Treasure side. The meeting was anticipated to be a crucial gathering about Treasure even before the Tuesday announcement of the agreement. The Planning Commission up until Tuesday had been expected on Wednesday to signal which way it would vote on the hotly disputed project, with a vote possible by the end of the year. The prospects of an agreement, though, overshadowed the meeting. The Planning Commission met at the Santy Auditorium rather than the Park City Council chambers to accommodate a large crowd that included Treasure opponents, elected officials and City Hall watchers.
The Planning Commission opted to delay additional discussions about Treasure until an undetermined date. The delay allows the elected officials and the Treasure side to continue the discussions about the acquisition. The deal would involve the Sweeney family's 50 percent stake in Treasure while the other partner in the project, a firm known as Park City II, LLC, would retain its holdings. If City Hall finalizes the acquisition, the project would be reworked into a significantly smaller development. The acquisition would depend on Park City voters in November of 2018 authorizing a $24 million ballot measure to fund most of the cost with the remainder coming from the City Hall budget. A $6 million initial payment would be required shortly. The $6 million would be put toward the purchase if it is finalized or toward a 10 percent reduction of the project if it is not.
The Treasure partnership's current proposal involves approximately 1 million square feet of development on a hillside overlooking Old Town along the route of the Town Lift. The Sweeney family secured overall development rights on the land and nearby parcels in the 1980s, but another approval is needed before the project could proceed. A reworked development if a City Hall acquisition is finalized would encompass a boutique hotel and 18 houses.
The Planning Commission meeting was the first opportunity for the public to provide testimony about the agreement. The panel received one hour of comments about Treasure. The hearing differed from numerous other ones about Treasure, focusing on processes rather than the details of the development itself. The Treasure opposition provided much of the testimony, but speakers who have traditionally offered criticism about the project seemed to support the discussions about an acquisition.
Brian Van Hecke, a leader in the Treasure opposition who is involved in the Treasure Hill Impact Neighborhood Coalition, thanked City Hall officials for their efforts. He said the opposition understands the Treasure partnership has development rights, adding that the group wants the land protected from development with fair compensation to the partnership. "The question is what is fair," he said about the development rights. [ READ MORE ]
From Park Record – December 14, 2017
by Jay Hamburger
Date Posted: 2017-12-16 00:29:09